Tips for New Clear Aligners Patients
Posted by Dr. Prescott on Apr 12 2022, 11:31 PM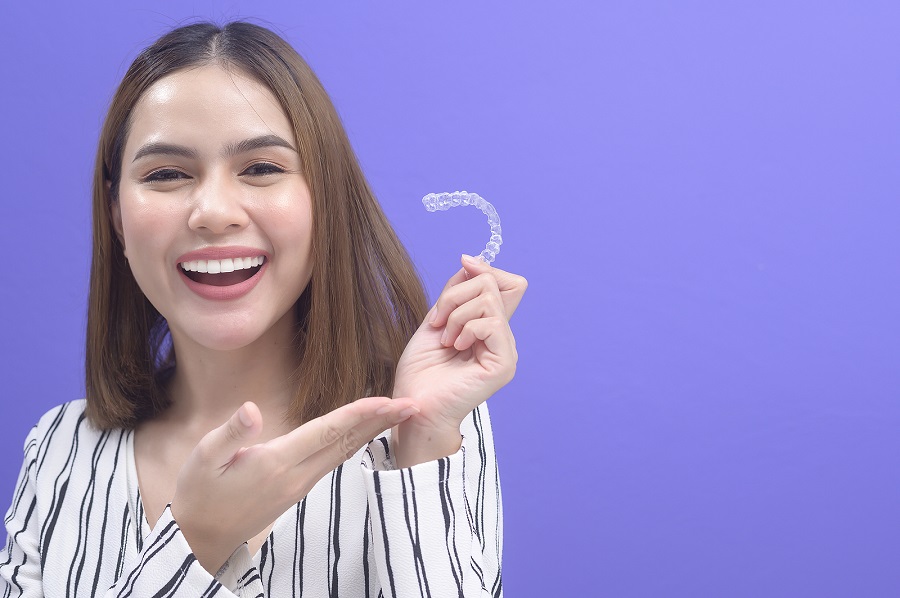 A clear aligner is a set of clear, removable, custom-fitted trays that fit over your teeth. The aligners are lightweight and work like invisible braces to move your teeth into place. If you are new to using clear aligners or are soon going to get this orthodontic treatment, then here are some tips for you!
Watch What You Eat
Your aligners are an investment, and with care, they should last for the duration of your treatment. However, eating the wrong foods could damage them. So, it's a good idea to avoid the following foods while you wear clear aligners.
Sticky foods, such as caramel.
Hard candies.
Crunchy foods, such as pretzels and potato chips.
Chewy foods, such as gum and soft caramel candies.
Sugary foods, such as soda and candy.
Wear Your Aligners as Directed
It is important to wear your aligners as much as possible, at least 22 hours a day. The aligners are designed to make subtle changes to the alignment of your teeth over time, so it can take a few weeks for new aligners to feel normal.
Keep Us Updated On Your Progress
Once you've received your new clear aligners, you'll need to visit us during regular checkups so we can see how you're progressing. During these appointments, we'll also evaluate how you're caring for your aligners.
When you receive your clear aligners, we will provide some cleaning instructions. It's important to follow these instructions carefully in order to keep your aligners in good condition.
Clean Your Aligners Daily
You should clean your aligners each time you take them out of your mouth. For the best results, use a soft toothbrush with gentle toothpaste. Never put your aligners in the dishwasher. This can warp the plastic and damage the aligners.
Smile!
Be sure to smile and flash your wonderful new teeth often! Let everyone know you have a new smile that you're proud of.
Are Clear Aligners Painful?
Many patients worry that orthodontic treatment won't be comfortable. But modern clear aligners are designed specifically to fit snugly over your teeth, making them virtually invisible. And this means that they're far more comfortable to wear than traditional metal braces. 
Get advanced dental treatments from Prescott Family Dentistry, Fort Mill, SC, by the expert team led by Jason Prescott, DMD, FAGD. For more details and appointments, call us at (803) 802-7878, book online, or visit us at 1860 Coltharp Rd., Fort Mill, South Carolina 29715.